Swaging is a metal forming method that is used to reduce rod of tube. Unlike other methods, swaging uses a rapid succession of hammer strikes to form the metal. This chip less metal forming method, is an efficient way to produce products with minimal material waste. It is a highly economic method to point tube and rod. It can also size, reduce, shape, taper, bond, or form metal parts.
Heavy Duty Swaging
Precision Swaging
Dual rotary swaging machine
To Swage up to 4 mm thick tubes
Dia 25 mm to 90 mm
OD range 16 mm to 45 mm
Thickness range 1 mm to 4.5 mm
Length min 250 mm, max 600 mm
ID controlled swaging
ID spline forming
Dual Rotary Swaging Machine
* Enhanced Precision Swaging with reduced torsional twist on component
Min. dia. – 5 mm. Max, dia. 45mm.
Max. thickness-1.5 mm
Max. swaged length 50 mm
Max material yield – 800 mpa
High finish
Speeds Assembly
Saves on Labor with auto feeding system
Low-Cost & Flexible Tooling
Control of Wall Thickness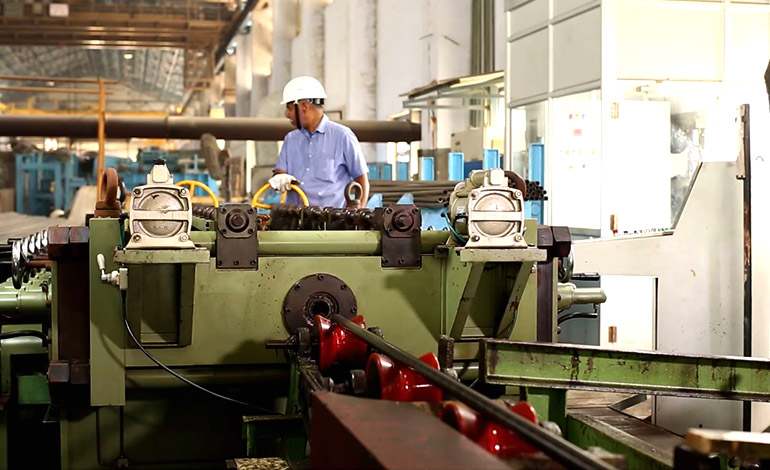 TIMB has produced 10 straightening machines till inception each machine is uniquely done with continuous improvement to meet the customer need.
The roll profiles are uniquely designed to meet the stringent straightening tolerance of 0.2mm in 1000mm length
The main structure which is carrying the straightening loads are designed for minimum deflection and design validation carried out using finite element analysis.
The machines are built with automatic configuration for setting the linear and angular position.
The larger machines are built with hydraulic clamping systems to maintain the roll position precisely throughout the straightening process
The inlet and exit handling systems are designed to minimize the noise and surface defects on the product.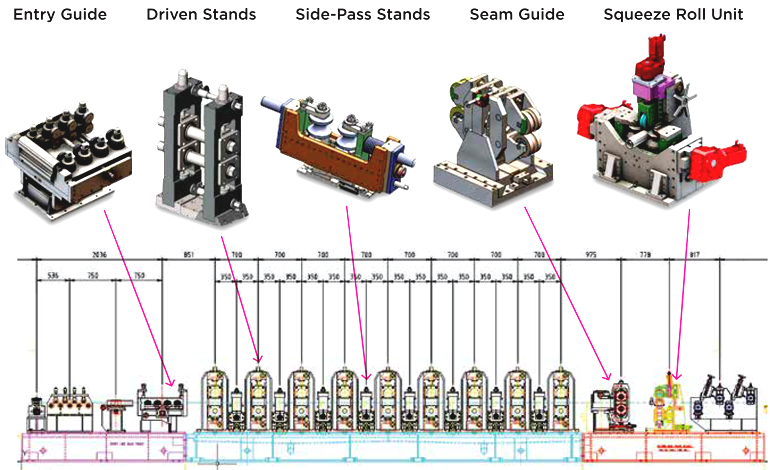 Squeeze roll with servo system
Servo controlled system with setup recall provision, thereby ensuring repeatablity & reliability by eliminating operator intervention
Extended Bea ring life
Reduced weld related defects and ensures consistency in forge line due to precise position control
SG Iron Casting stands for better shock absorption and stability
Stand Clamping system with quick change over
Tube Mill for all form of specialized tubing.
Rigid Mill construction to produce tubes of carbon steel & high strength steel with diameter/thickness ratio upto 7.
We also supply individual elements to upgrade the existing tube mill.
Entry line—Accumulator—Forming Stands—Squeeze rolls—Flying Cutoff—Online Chamfering.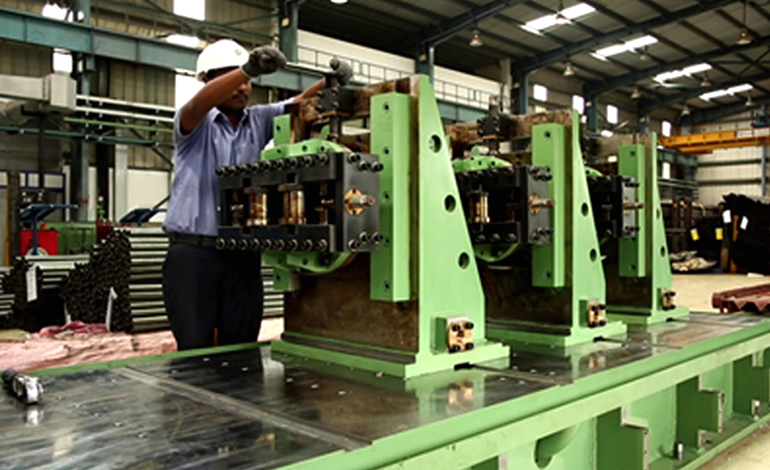 With the latest's development in power electronics the Longitudinally welded tube is manufactured by high frequency induction welding. A typical high productive setup consists of following elements
Double Decoiler
Automatic strip end joiner
Accumulator
Forming stands
Finpass stands
High frequency induction welder
Squeeze roll
OD bead remover
Cooling chamber
Sizing section
Turk heads
Flying cut off
Runout table
To achieve the productivity and quality TIMB designs and manufactures the appropriate equipment for the carbon steel and stainless-steel tube industry from the smallest diameter of 10 mm to the biggest of 250 mm, with wall thicknesses of 0.5 to 16.0 mm in carbon-steel, stainless steel, aluminum, brass- and copper/-alloys and in different qualities.
Based on an intelligent modular design the individual machines can be combined to production lines for mass production – also fully automated and customized.
In-house production is carried out with a high production depth and according to the latest manufacturing methods with strictest quality standards. Here, engineers, designers, the production team and automation experts work seamlessly together – coordinated internally and externally by a project manager. This makes teamwork easier and prevents communication deficits.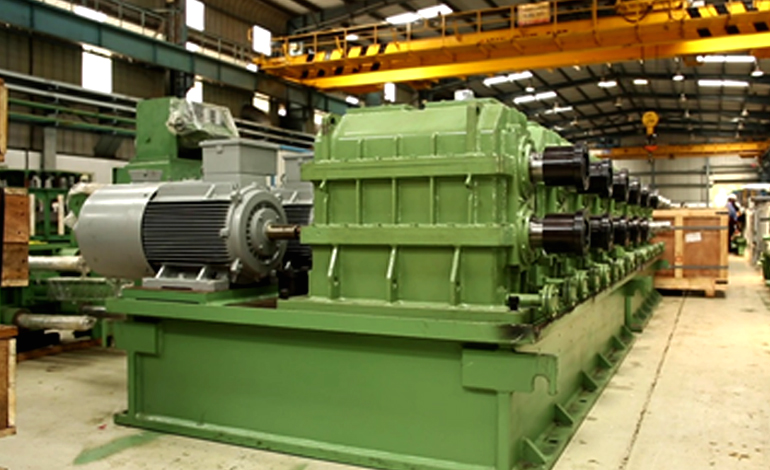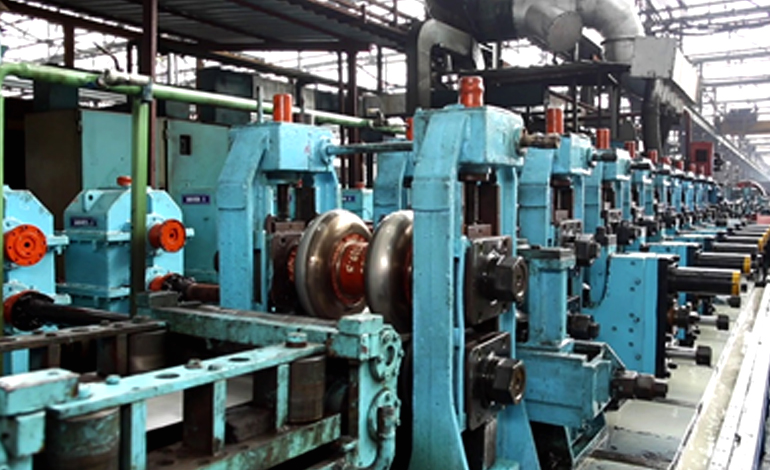 Customers count on our machine for the following advantages
High productivity and availability
Reliable reproducibility
Short set-up times
Simple operation
Increased process stability
Continuous production
Automated processes
Individual visualization